Special Print Offers
I have decided to try and make more of my pictures available to everybody at an accessible price in a no-frills way. I don't want price to be a barrier that stops people enjoying my images. These special print offers are for open-edition, digital C-Type prints on satin-matt Fuji Crystal Archive Paper. They are signed, titled and dated on the back, and the front when borders allow.
I will send them wrapped in acid-free tissue paper, in a cardboard tube, and I have successfully sent many pictures this way over the last decade. Post and packaging will be charged at a flat rate of £7 to anywhere in the world, but if I feel I have charged you too much a refund will be sent.
To keep this scheme fresh I intend to change my offers every couple of months. The pictures will then be retired or made available at my normal prices which start at £42.
To ensure you receive details of all my special print offers, please sign up for email updates from my Dark Matters blog. This will also get you a notification each time new blog posts are added.
Until July I am delighted to offer these two football related pictures for only £20 (+P&P) each. The paper size is 15" x 10" and the image size is as specified. Click to enlarge the pictures below.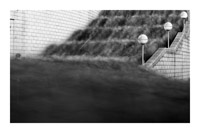 Human Tide – Newcastle upon Tyne
I had been photographing outside football grounds in the north-east of England for several months, and felt I was failing to capture how I felt being surrounded by huge crowds of people. Rarely could I find subjects to photograph, and I was overwhelmed by the crush and the endless flow around me. And then outside St. James Park in Newcastle upon Tyne, I decided to just stop and to stop looking so hard, and to let things flow past me. So I set up my tripod and waited for the match to end, and as 50000 people exited, I managed to make three pictures before the human tide overwhelmed my position.
Print Size: 13.5 x 8.5 inch
Price: £20.00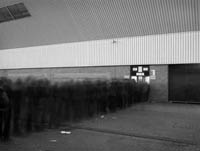 Into the Light
I was photographing at the Stadium of Light in Sunderland at dusk, and was struck by queues of dark figures entering the football ground. The towering structure of the stadium seemed like a barrier separating the gloomy exterior from the brightly lit and noisy tribal space within. There was a sense that the closer the fans moved towards the turnstiles the more they lost their individuality, as the light within became more and more visible to them.
Print Size: 12 x 9 inches
Price: £20.00